Phoenician Fire Hot Sauce Powder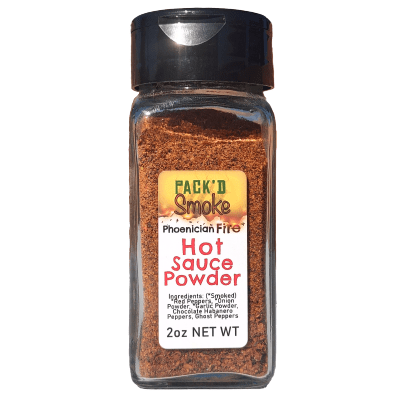 This fiery blend is not for the faint of heart but is perfect for those who crave intense heat and bold flavors. Crafted with a careful balance of smoked peppers and spices, it delivers a tantalizing symphony of smokiness and heat that will leave you craving more.
Ingredients:
Smoked Fresno Red Pepper Powder: Our signature ingredient, the Smoked Fresno Red Pepper, brings a rich and smoky depth to the mix. It's the heart of this fiery concoction, providing both heat and a subtle sweetness.

Smoked Onion Powder: The smoky onion essence enhances the complexity of the flavor profile, adding layers of savory notes to the blend.

Smoked Garlic Powder: Smoked garlic infuses a rich and earthy undertone into Phoenician Fire, elevating the overall taste experience.

Smoked Chocolate Habanero Pepper Powder: Chocolate habanero peppers contribute a unique smokiness and a distinctive level of heat that sets this blend apart.

Smoked Santa Fe Red Pepper Powder: Smoked Santa Fe red peppers bring a touch of sweetness and a pleasant smoky aroma that complements the other elements.

Smoked Ghost Pepper Powder: For those who crave the ultimate heat, the smoked ghost pepper adds a fiery kick that builds with every bite.
Usage:
Phoenician Fire Hot Sauce Powder is incredibly versatile. Sprinkle it on your favorite dishes to add a smoky and spicy kick. Use it in dry rubs, sauces, marinades, and more to infuse your creations with unforgettable heat and flavor.
Caution:
This hot sauce powder is not for the faint-hearted. Use it sparingly, as its fiery nature can bring a serious kick to your dishes. Handle with care, and enjoy the heat responsibly.
Add a dash of Phoenician Fire to your culinary adventures and experience a taste sensation that will keep you coming back for more!
Crafted with Care
Made from scratch from fresh, American-grown produce in the heart of Arizona by Shawn Packham (#11006). Please note that it is created in a home kitchen, where every batch is meticulously crafted by hand. While our kitchen may process common food allergens, rest assured that your gourmet experience is our top priority. Although we do not undergo public health inspections, we are committed to upholding quality standards.